Enough about that, though. Spring has sprung in Seattle and the clouds are parting for longer and longer intervals! That picture above was taken at the coffee shop down the street (where I'm pretty sure Mom met Eddie Vedder) a couple of Saturdays ago. It was nice! That was also the day that Lorelei discovered BASKETBALL. Oh, how my Siefert blood sings when she talks about playing basketball!
She's also doing really well in Tae Kwon Do. I promised pictures of her belt test (moving from white to yellow), and here they are:
We spent Easter weekend hanging around the house. We did some yard work and some cleaning mostly. But it was a gorgeous weekend and Lorelei and I walked down to the beach and had some play time.
It's also been birthday season here - Shawn's Birthday, our friend Vianney, mine, Ed's and of course, Maya turned 1! Isn't she a gem?
The girls took me to a wine tasting shop for mine! Lovely!
Otherwise, we've been busy with our day-to-day. Shawn is wrapping up another semester, Lorelei is getting ready for the homestretch of the school year, and I'm ever-busy at work. This weekend I signed up to do a 5-mile race in Skagit County, it's called the Tulip Run. They have an annual tulip festival up there.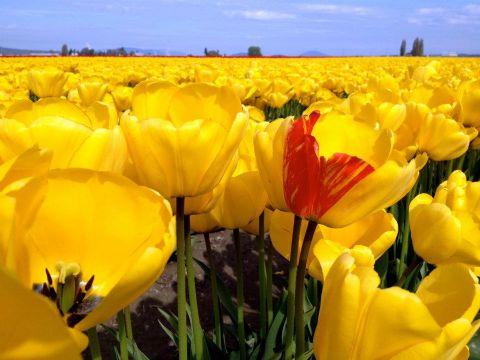 Hopefully the weather holds and we have a good run. If it's nice, we may head over to Deception Pass. If you map it, it's in kind of neat area on the north Sound. We wanted to go to Whidbey Island, but they've had a lot of mudslides and parts of the island are in bad shape.
After that, I head to Dallas for a work thing April 15-17. Once I get home from that it's going to be time to start thinking about how to celebrate Lorelei's 8th birthday! Where does the time go?
I will try not to be so long between posts! In the meantime, relax, have some coffee and remember to smell the tulips.
Take care,
Becky